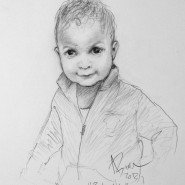 Sketch Videos
Today I coordinated with production friends to put together videos of me sketching, one with a live person and one from a photograph. It was definitely an interesting experience and a bit of a challenge since I wasn't able to move around much while drawing and the work area was cramped with lights and cameras.
I will share the videos as soon as they are ready. In the meantime, here are the sketches from the day.
If you would like to learn how to draw or improve your drawing skills, check out the class schedule and contact me to schedule your first lesson.  I look forward to being your teacher!